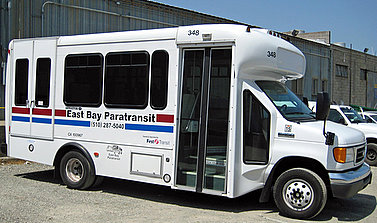 Welcome to East Bay Paratransit
East Bay Paratransit is a public transit service for people who are unable to use regular buses or trains, like those operated by AC Transit and BART, because of a disability or a health-related condition. East Bay Paratransit transports riders from their origin to their destination in vans equipped with a wheelchair lift. East Bay Paratransit was established by AC Transit and BART to meet requirements of the Americans with Disabilities Act (ADA).
Contact Information
Phone Numbers:
Main Phone Number (510) 287-5000
Toll Free 1-800-555-8085
Fax (510) 287-5069
Alternative Formats
Information found on this website can be provided in an alternative format upon request. Please contact Customer Service at 510-287-5000 to speak to a representative or email the Quality Assurance Manager Jasher Nowland at Jasher.Nowland@transdev.com. East Bay Paratransit will do its best to provide the requested alternative format within a reasonable time.
Address & Directions
Click HERE for Directions!
Rider Informational Documents:
East Bay Paratransit Riders Guide
All About East Bay Paratransit
The East Bay Paratransit App is Now Out!
COVID-19 Updates
Service Hours
Service is provided during the hours of AC Transit's bus and BART's rail operations. Service is limited to areas within ¾ mile of an operating bus route or BART station. Call

(510) 287-5000

for information about specific times and locations.
Office Hours
Administration

M-F, 8 AM to 5 PM

(phone only!)

Ticket Sales

M-F, 8 AM to 5 PM

(online & phone only!)

Cancellations
24 hours
Complaints
24 hours
Customer Service Center

Every day, 4 AM to 1 AM

(phone only!)

Eligibility Certification

M-F, 8 AM to 5 PM

(phone only!)

General Information

Every day, 4 AM to 1 AM

(phone only!)

Reservations

Every day, 8 AM to 5 PM

(phone only!)
East Bay Paratransit